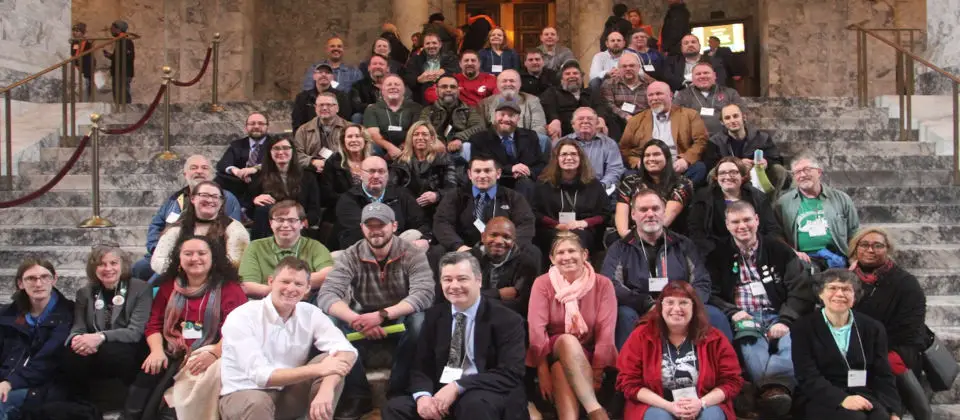 Lobby Day 2018
by Council 2 Deputy Director Pat Thompson
on February 23, 2018
Nearly one hundred Council 2 members took their own time to lobby their Legislators on behalf of your Union. Armed with written material, they met with State Senators and Representatives to advocate for local government employees on the following issues:
SB 6079 – Prime Sponsor Senator Kuderer
This bill would prevent the public disclosure of public employees birth dates. Public Employees shouldn't have to have their personal information handed over to anyone who asked for it. This small measure will help prevent identity theft and protect public employees from people who wish them harm. The bill passed the Senate 25 to 22 with all Democrats voting Yes and all Republicans voting No. The bill is now in the House awaiting action.

SB 6229 – Prime Sponsor Senator Van De Wege
This bill would allow at least 30 minutes for Unions to present information about the Union to newly hired employees. Given the constant attacks public sector Unions are under, it's critical that we have an opportunity to explain the importance of membership to employees. Two Republicans joined all 25 Senate Democrats in advancing the bill to the House.
*Please contact your Representatives and ask them to support the above bills.

HB 1560 – Prime Sponsor Representative Stanford
Currently, new employees who don't make a decision to join the retirement system within 90 days are automatically put in Plan 3. This is an irrevocable decision.Plan 3 is designed for employees to make specific decisions about their retirement funds and assumes risks that Plan 2 does not. Employees should not be defaulted into a riskier plan without their specific approval. Lastly, this bill will SAVE the state money, $91 million over 25 years.This bill passed to the House with 66 to 29 with 17 Republicans joining all the Democrats in support.
*Please contact your Senators and ask them to support the above bill.

---
back