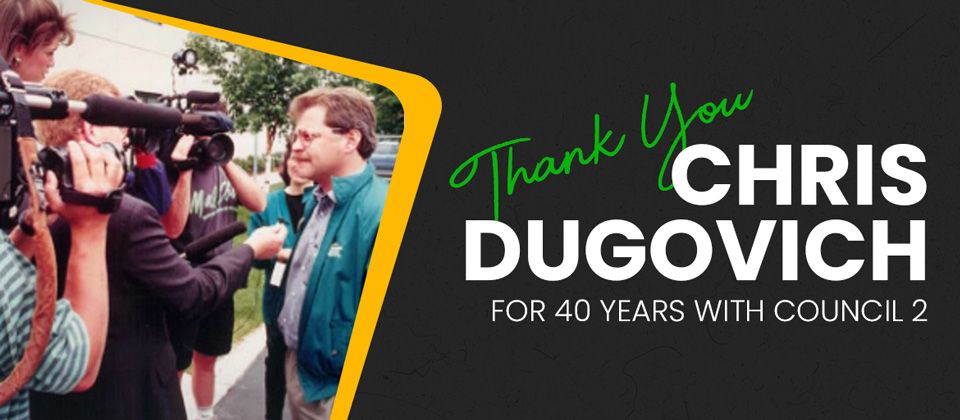 Reflections on my Council 2 Career: Let's Take Care of What We Built!
by Chris Dugovich
on July 22, 2022
After a 40 Year Council 2 Career, President and Executive Director Chris Dugovich Retires

Chris Dugovich, who worked for Council 2 over a four-decade career, including over 30 years as President and Executive Director, retired from his position at the April 30 Executive Board meeting. The Board selected Michael Rainey to serve the remainder of Dugovich's term. Rainey, a Staff Representative since 2016 who served as President of the staff union, is a former rank and file member in Snohomish County and local union president.
Dugovich's retirement came nearly 40 years to the date of his hiring, which he reflects upon in his final "President's Letter", below.

At that time, a big difference between the state employees I had represented and the local government workers I now served was union security. It's sad that 40 years later legal attacks at the highest courts in our nation have undermined this basic principle of fairness and collective strength, allowing workers to decline membership and not help pay for union services that win pay increases and secure benefits.
A challenge since Janus is maintaining our membership. Everyone needs to take ownership and do what we can to make sure that members old and new understand the gains this union has made. In order to continue improving pay and benefits, it will take the strength of numbers. That means members.
Later in that same decade, and into the nineties, we built on this foundation of strength, winning dependent medical care, dental coverage, along with life, vision, and disability insurance.
I spent a few years as Deputy Director, negotiating contracts all over the state. Along with my regular Snohomish to Bellingham circuit, I led negotiations in the City of Spokane, Grays Harbor and a host of contracts in Central Washington. I've always enjoyed the challenges of negotiating alongside local leaders—some real characters I met along the way.
I was first appointed President/ Executive Director after Larry McKibben's retirement. Since that October 1989 transition I was re-elected 9 times, serving more than 32 ½ years in this position. It went quickly!
We put an emphasis on organizing new members, which helped us get out of a financial spot—in the early days, staff paychecks would sometimes bounce. Today we are a financial model to other councils. We went from 6,500 members when I was elected President to a high-water mark of 18,000. We started a scholarship program for dependents of members and continuing education. To date, we have given away nearly a million dollars to help with our kids' education.
In 1994 we had a number of strikes in Spokane County, and a 2-week walkout in Renton. The locals involved all held their own, and the media coverage that followed fueled our growth in new jurisdictions.
Throughout the years we continued to make strides in the Legislature, enhancing and protecting the PERS pension system, gaining full collective bargaining rights for court employees and deputy prosecutors, and passing the one-year extension of collective bargaining agreements after their expiration. We also gained Interest Arbitration for our represented correctional officers.
In 1996 I was elected to the first of 2 terms on the AFSCME International Executive Board, and learned a lot from the experiences of leaders from throughout the country.
Since the days of bouncing paychecks and phones being shut off, I made it a priority to get Council 2 in good financial shape. The Union now owns three office buildings and three townhouses, providing non dues-based income to keep our operation going even in the wake of the Janus decision and economic downturns. Council 2 has reserve funds and boasts some of the lowest dues of any union in Washington State. We are more than $40 per-month lower than the state employees represented by Council 28.
Over many years I had the pleasure to hire and work with a lot of good staff, most of whom came out of our membership. Working as a staff representative for Council 2 is a tough job, but can be extremely rewarding. You never make everyone happy, but in over 180 jurisdictions, our staff consistently manages to gain settlements approved by the majority of members. Balancing personalities, politics, and expectations is not an easy thing to do, and it's a skill set that should be applauded.
I have also worked with hundreds of local union presidents and Council 2 Executive Board members, all of whom gave countless hours and their best judgment to help us through some tough issues. We are a democratic union but democracy does not always make everyone happy. There certainly were a few local and Executive Board leaders that I've clashed with over the years, and you know who you are! But I believe that even in conflict, we always want what is best for our members.
It is now just over 40 years since I started this work—on April Fool's Day, 1982. In a lot of ways, I feel like I could do another 20! But, it is time to do other things. I will miss this work, this union, and the people who make it a dynamic, diverse, and at times joyous job. I'm grateful to have spent my career working with all of you—past and present, and I am eager to see how the future unfolds. It has been a great ride. Take care of what we built. We have done a lot of good for a lot of people. I am glad I could be of some help!
back