IMPORTANT MEMBERSHIP NOTIFICATION
RENEW YOUR MEMBERSHIP TODAY
It's
important
that all Council 2 members renew their memberships to keep active with the union. Simply fill out this
secure form
to keep your membership active and payroll dedcutions accurate.
The Washington State Council of County and City Employees and workers everywhere are standing strong with their union after the Supreme Court's decision in Janus v. AFSCME last June. Locals across the state have held membership meetings addressing what the decision means for workers and their union, and have found workers overwhelmingly support their #FreedomToJoin.



Read more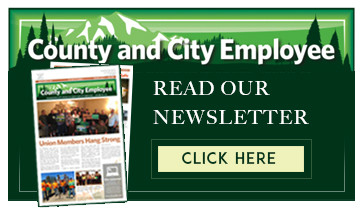 COUNCIL 2 MEMBER BENEFITS
Council 2 Provides These Great Advantages

COLLECTIVE BARGAINING
Working collectively to address common needs and concerns.

PROFESSIONAL STAFF
Many offices throughout the state staffed with people who care about its members.

DEMOCRATICALLY RUN
An organization that is run by the workers through voting power.

LEGISLATIVE ACTION
Full-time lobbyist charged with pursuing the membership's goals in Olympia.

AFSCME INTERNATIONAL UNION
AFSCME helps expand our ability to provide workers with essential services.

COMMUNITY
Our members love their locals and find that the other members become "family".