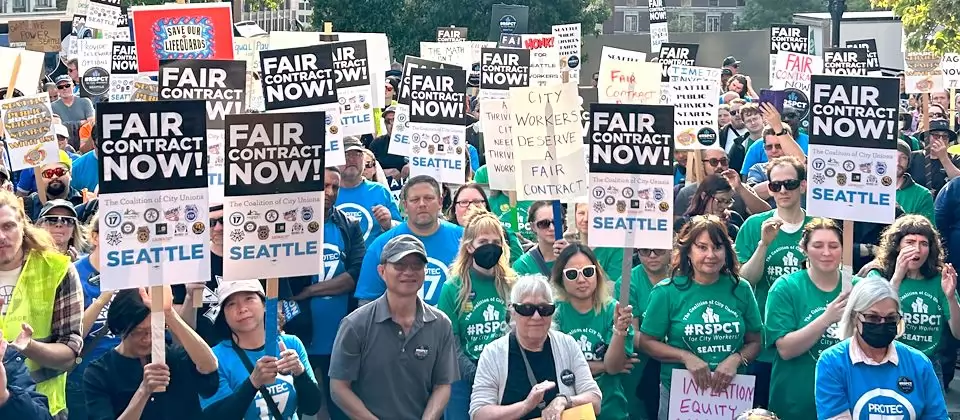 Council 2 Members Demand Fair Contract From the City of Seattle
by Council 2 Staff
on September 21, 2023
Over 1,000 City of Seattle Union members, including many Council 2 members, filled the courtyard and nearby sidewalks of City Hall in Seattle, illustrating a vivid picture of solidarity and determination. The assembly was comprised of city employees and their supporters, all united by a common goal: advocating for equitable labor contracts that address a range of pressing issues.
Prolonged Negotiations
For the past year, negotiations have been ongoing between these city workers and their employers, yet a mutually acceptable contract has remained elusive. The primary concerns of these workers encompass five core areas: achieving racial equity, ensuring workplace safety, attaining better pay and affordability, advancing climate justice, and establishing a healthier work-life balance.
The Crux of the Matter
The discontent among these workers is rooted in the city's initial offer of a nominal 1 percent increase in their cost-of-living adjustments, which starkly contrasts with the substantial rise in the cost of living itself: up 8.7 percent this year — an undeniable imbalance. Last week, The city negotiators eventually raised their cost of living increase offer to 2.5% for the first year of the contract, but this obviously still misses the mark.
Insights from the Rally
During the rally, numerous workers took the opportunity to share their personal experiences and articulate the significance of their cause. They recounted their strenuous work hours and their financial struggles, with some forced to juggle two jobs to make ends meet. Council 2 had several members attend, including members from Local 21,21-C, 21-Z, and their newest group, Local 21-SP. Council 2 President Michael Rainey also spoke at the rally.
A Library Worker's Perspective
One of the rally's prominent participants was Anne Cisney, a librarian, and Seattle Public Library's Local 2083 President. Cisney emphasized the glaring income disparities among city workers, where some earn between $73,000 to $75,000 annually while others receive substantially less. She shed light on the challenges faced by workers who find it increasingly difficult to reside in Seattle, particularly those responsible for caring for their families.

According to a recent Seattle Times article, Cisney said "There's a huge disconnect and we are repeatedly ignored…The issues union members have raised are important to the community, too. Residents rely on 911 dispatch services, libraries, and other public services that require a stable workforce. It feels shortsighted to not invest to have a stable workforce and strong foundation for needed public services."
What's Next
After a bargaining unit walkout in August during negotiations, City of Seattle Mayor Bruce Harrell attended a negotiation session. However, there is still not a final contract between the city and the unions. Mayor Harrell wanted to wrap things up by October, but an agreement by this date now seems very unlikely.
The unions assert that if the city fails to address their grievances by the New Year, they may have no other recourse but to strike.
back