City Liquor Revenue Issue Brief
by Council 2 Deputy Director Pat Thompson
on January 1, 2016
Ensure sufficient and flexible revenue for essential city services

HB 2438
Sponsors: Representatives Nealey, Reykdal, Wylie, Vick, Orcutt, Senn, Wilcox, Kirby, Condotta, Hudgins, Stokesbary, Schmick, Tharinger, Rodne, Magendanz, Zeiger, Walsh, Muri, Rossetti, Springer, Sells, McBride, Kuderer, Bergquist, Hargrove, Goodman.

SB 6425
Sponsors: Senators Hewitt, Fraser, Roach, Parlette, Mullet, Hobbs, Rivers, Takko, McCoy, Liias, Warnick, Ericksen.

Alcohol consumption increases public safety and health costs at the local level. In recognition of this, the state has shared liquor revenues with cities and counties for over 80 years. When voters approved liquor privatization through Initiative 1183, they also approved increased revenue for local governments to fund public safety. This promise of enhanced public safety funding has not been honored.

Our local communities need: Restoration of the historic liquor profit sharing between the state, cities, and counties.

A gradual restoration would allow cities and counties to receive a $2.5 million annual increase in local liquor profits with reinstatement of the historic profit sharing formula in state fiscal year 2024. The proposal has no impact on the state's 2015-17 budget and a modest ($7.5 million) impact on the state's 2017-19 budget.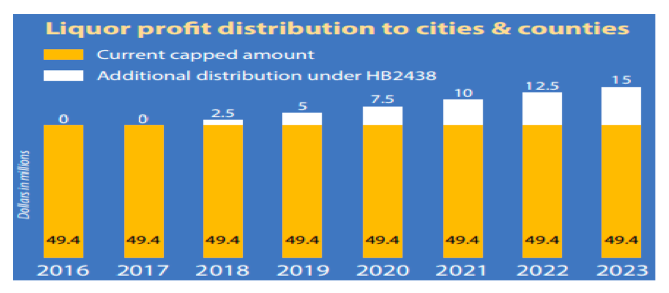 Cities and counties receive two types of liquor revenue: liquor profits and liquor taxes. Liquor board profits are revenues from license fees and permits. Liquor excise taxes come from a state tax to consumers and restaurant licensees. Both types of liquor revenue historically have been shared with cities and counties based on a formula. Until 2013, liquor profits were shared 50% to the state, 40% to cities, and 10% to counties. This sharing allowed both state and local government revenue to grow as liquor prices and consumption increased.

On the last day of the 2012 legislative session, legislators approved ESHB 2823, which capped local liquor profits at 2011 dollar amounts. Cities and counties now receive $49.4 million annually. The local government share no longer grows, and additional profits generated by liquor privatization go only to the state. As a result, more than $150 million in city and county liquor revenue has been diverted to the state general fund.
back