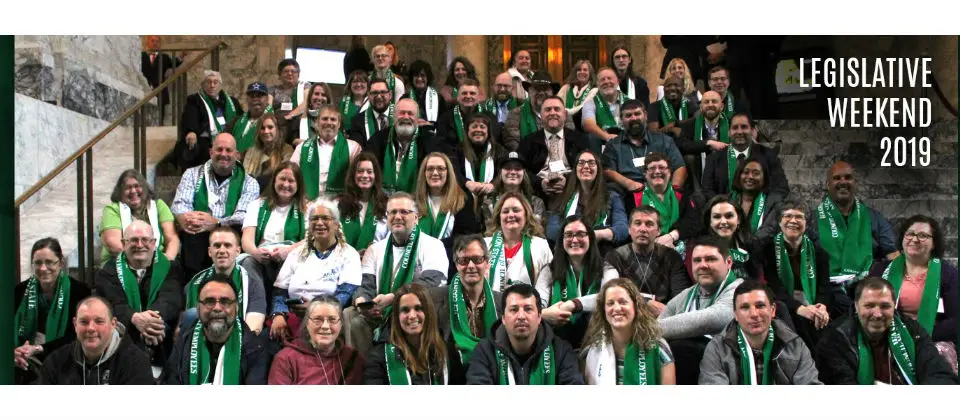 Spring Legislative Report
by Council 2 Deputy Director Pat Thompson
on April 3, 2019
A little spring snow storm didn't stop nearly a hundred Council 2 members from making their way to the Capital March 8th. This year all the action was on the floor in both the House and the Senate so our member/lobbyist sent in notes and asked lawmakers to step out for a moment to discuss issues important to our Union.
Among the Bills that we focused on were:
SSB 5623
Strengthening the Right of Workers through Collective Bargaining
The Janus decision upended 40 years of public sector labor law. SHB 1575/SSB 5623 works to rebalance our collective bargaining laws in light of the new legal reality for public sector workers. It does so by aligning our laws with the Janus precedent, while also giving public workers the tools they need to modernize their options for forming new unions. It protects workers' unions and public employers from harassing lawsuits and assigns clear responsibility for processing membership applications and drops. This Bill passed the House and is currently on the floor of the Senate.
HB 1308 / SB 5360
Changes the default plan for new members who are first eligible to enter the Public Employees' Retirement System or School Employees' Retirement System but do not choose a plan, from Plan 3 to Plan 2.
Newly hired employees who don't make a formal decision about their retirement plan should not be automatically put into a retirement plan that assumes stock market risk. PERS Plan 2 is a more stable, predictable Plan.
SB 5418
Concerning Local Government Procurement Modernization and Efficiency
Local Government Bid Limits have not been adjusted in years. Cities and Counties should be given the opportunity to perform Public Work projects faster, cheaper and with higher quality by using their current workforce.
back